2. 1. 2012
male
C.I.B. Tsarskaja Prihot GORDEY at Caen Morhen
* 26. 5. 2011 + 19. 7. 2020
ICh. & MultiCh. Tsarskaja Prihot KAZANOVA x Ch. Tsarskaja Prihot IGRA S OGNEM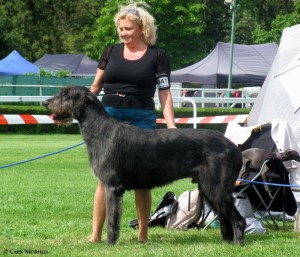 Gordey, Gordeyek - three years old
C.I.B.
Champion of Czech Republic, Poland, Croatia, Grand Champion CZ, Champion of the CMKU
Champion WDK - breeders Wolfhound Club
Champion of KChCh - CZ Sighthound club
res. CAC in World Dog Show Budapest 2013
1 x BIG
4 x BOB
6 x CACIB
5 x res. CACIB
9 x BOS
1 x Clubwinner
1 x FCI Central European Winner 2013
1 x Winner of Konopiště 2013
1 x Junior Clubwinner
19 x CAC
10 x r. CAC
4 x CWC
2 x winner of puppyclass
1 x Best puppy - FCI Eurosighthound, Italy
Heart check (doppler included): 2013, 2015
Gordějek byl celý život zdravý. Prodělal "pouze" torzi sleziny cca v 6 letech, po operaci byl zdráv, i když narkózu snášel špatně. Ještě na jaře po narození štěňátek v listopadu 2019 běhal vesele a shazoval kila, které přibral díky dobrotám o které se se štěňaty dělil. Potom začaly problémy s prostatou, pak ledvinami, potom se mu udělaly nepříjemné polypy v čenichu. Když jsme se rozhodli polypy vyřešit operativně, při vyšetřeních se ukázaly začínající problémy se srdcem. Z důvodů netolerování anestezie v kombinaci s ne dobrým stavem jsme se rozhodli pro léčbu bez operace.
Jeho stav se před smrtí razantně zhoršil, a tak jsme se s naším černým princem rozloučili ... Musel být uspán.
Gordějek was healthy all his life. He "only" suffered a torsion of the spleen when he was about 6 years old, after the operation he was healthy, although he did not tolerate anesthesia well. Even in the spring after the birth of the puppies in November 2019, he was running happily and shedding the pounds he gained thanks to the goodies he shared with the puppies. Then problems started with the prostate, then with the kidneys, then he developed unpleasant polyps in his nose. When we decided to solve the polyps operatively, the examinations showed the beginning problems with the heart. Due to the intolerance of anesthesia combined with a poor condition, we decided to treat without surgery.
His condition worsened drastically before his death, so we said goodbye to our black prince ... He had to be put to sleep.