Srpen 2013 - čekáme štěňátka! / August 2013 - we expect puppies!
S velkou radostí a očekáváním oznamujeme, že naše milovaná "Zlatonka" Ch. DAUGHTER of Caen Morhen byla nakryta anglickým psem Windspray FIREWIZARD. Narození štěňátek vrhu "F" očekáváme přibližně během 7 dnů.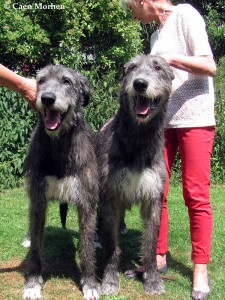 "Zlatonka" a "Winston"
Po ověření ultrazvukem máme dvě důležité zprávy:
- všechna naše štěňátka budou úplně normální vlkodavové, co se mazlí, zlobí, baští, koušou, vrtí ocásky a v očích mají čertovinu,
- přesto že je několik kluků a několik holčiček již zadáno, vážní a seriózní zájemci jsou vítáni, třebas jen na vzájemně nezávazné setkání.

Maminka DAUGHTER alias "Zlatonka" je silná, čtyřapůlletá žíhaná fena, výstavně, sportovně i chovatelsky úspěšná, s velmi laskavou povahou. Vede krevní linie především anglické, irské a americké. Je několikanásobná šampionka, čekáme potvrzení titulu C.I.B – Interšampion.

Tatínek FIREWIZARD alias "Winston" je anglický, atletický, pětiletý žíhaný pes, velmi elegantní, s úžasně vstřícnou a přátelskou povahou. Vede především krevní linie renomovaných anglických chovatelských stanic – Windspray, Seplecur, Caredig, Sadé .....
Toto budou Winstonova první štěňata!

Tento náš vrh vychází z tradice kvalitního anglického chovu – cílem dlouholetých chovatelů mnoha předků nikdy nebylo množství a povrchní úspěch. Usilovali vždy o výborný typ vlkodava - impozantního, silného, hrubosrstého chrta.
Oba rodiče (včetně některých pra- i prapra- rodičů) mají opakovaná vyšetření srdce s negativním výsledkem.
S vlkodavy žijeme více jak dvacet let, naším cílem je kvalita, ne kvantita. V naší stanici štěňata vyrůstají v rodině s námi a s ostatními psy.


With a big pleasure and with a big expectation we would like to announce, that our beloved Ch. DAUGHTER of Caen Morhen was mated by English dog Windspray FIREWIZARD. Birth of "F" puppies we expect in one weeks.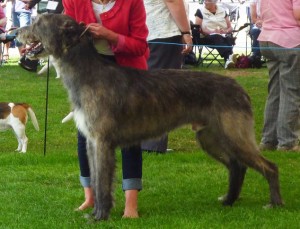 Windspray FIREWIZARD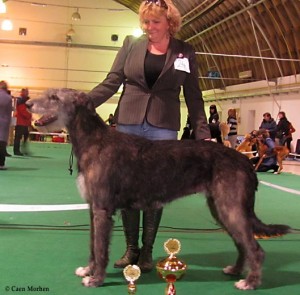 CH. DAUGHTER of Caen Morhen

After ultrasound check we can say two important messages:
- all our puppies will be a standard wolfhounds which like hugging, misbehaving, eating, biting, wagging tails and having little "devils" in their eyes
- some boys and some girls are already reserved, however serious and reputable interested persons are welcome (possibly for non-binding meeting only).

Mum DAUGHTER alias "Goldie" is a strong, four and half year old grey brindle bitch, with shows, sports and breeding successes. She has very nice and good-hearted character. She holds blood-lines predominantly from UK, Ireland and United States. She has multiple champion titles and recently we are waiting for C.I.B. title.

Dad FIREWIZARD alias "Winston" is athletic, five years old grey brindle dog, very elegant, with nice, open and friendly character. He holds blood-lines from recognized UK kennels - Windspray, Seplecur, Caredig, Sadé .....
This will be the first puppies of this stud.

Our "F" litter builds on the tradition of quality breeding in UK - long-time breeders of many ancestors did not strive for quantity and cheap success. Their major goal has always been excellent type of wolfhound – commanding, strong, wire haired sighthound.
Both parents (including some grand- and grandgrand- parents) have repeated heart checks with clear results.

We are living with wolfhounds more than twenty years, for breeding we choose quality, not quantity. Puppies are growing in our home, together with us and our dogs, in our kennel.


Podívejte se na obrázky některých předků a příbuzných:
Look at the pictures of some ancestors and relatives: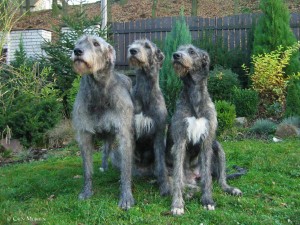 Three generations - from left:
Thelonius - 7,5 years
Follow Jatana - 3,5 years
Daughter - ten months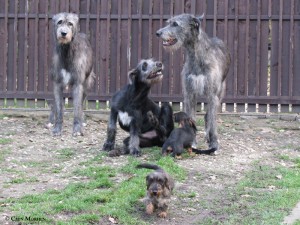 Follow Jatana and her family:
from left - Follow Jatana,
Gordey and dachsunds,
Daughter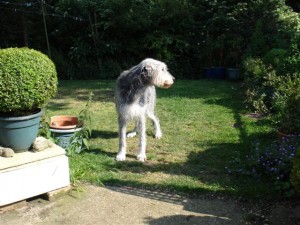 So nice, so old man:
Seplecur JAEGER by Windspray
- so old and healthy,
without any medication !!!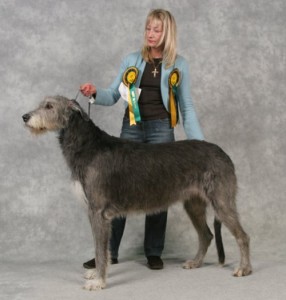 Windspray FIREBIRD
won from veteran class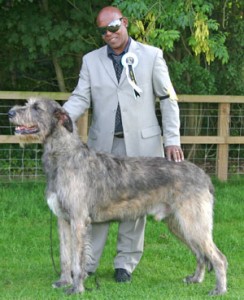 Ch. Sadé PORRYK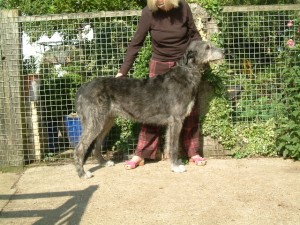 Windspray FIRESPIRIT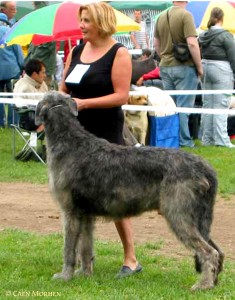 C.I.B. Thelonius - six years old in ring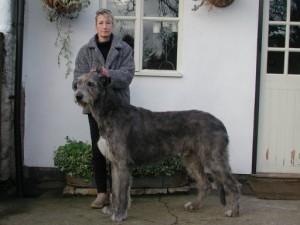 Amazing Ch. Windspray DANTE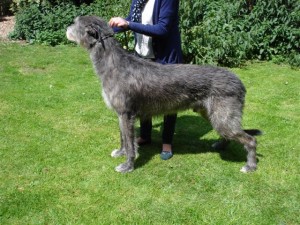 Dad "Winston" in garden
Windspray FIREWIZARD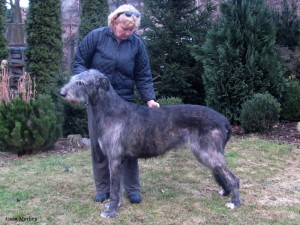 Follow Jatana - 6,5 years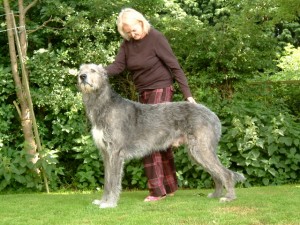 Seplecur JAEGER by Windspray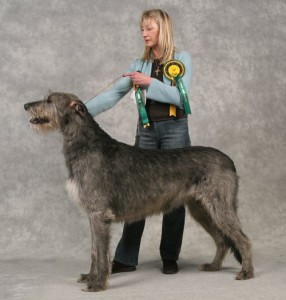 Seplecur JEZEBEL by Windspray
sister from JAEGER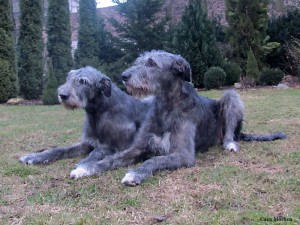 From left:
Follow Jatana
and Daughter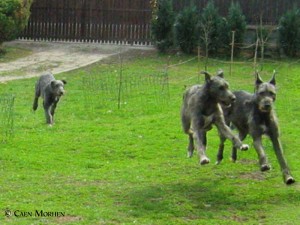 Flying wolfhounds,
from right:
Follow Jatana
and Daughter
and "Ivanek"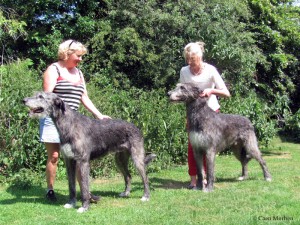 Daughter and Firewizard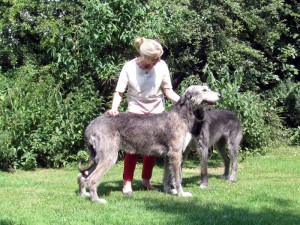 "Winston's" - Firewizard's sister Windspray FIREFLY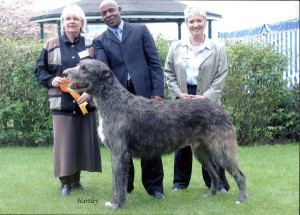 Ch. Caredig KAVA of Sadé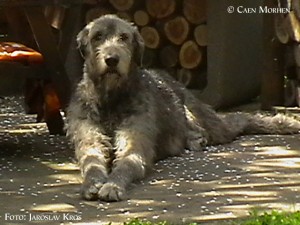 Beloved Thelonius, seven years old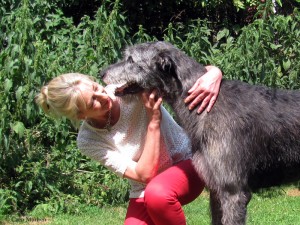 Two nice ladies:
Karin and Daughter .....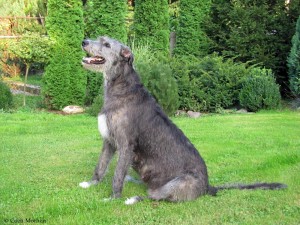 Daughter
her lovely smile ....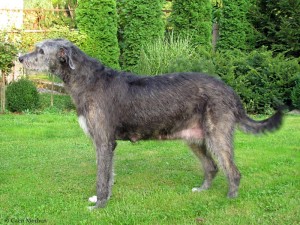 Only few days ...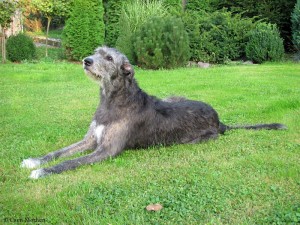 Waiting ....